Human Rights

Human Right's Watch is a national organization that investigates and exposes human rights violations around the world and demands that abusers be held accountable. They recognize women's rights as a pressing global issue and are working to raise awareness of women's human rights violations. Their website offers eye-opening articles and calls to action.

Witness is committed to documenting human rights violations around the world. They provide video equipment and field training to grassroots activists allowing them to film human rights atrocities in their countries. Witness also helps in the editing and distribution of the videos. They have produced a number of videos on women's human rights, including "Operation Fine Girl: Rape as a Weapon of War" about the abuse of women during the war in Sierra Leone.
INCITE! Women of Color Against Violence "is a national activist organization of radical feminists of color advancing a movement to end violence against women of color and their communities through direct action, critical dialogue and grassroots organizing."

Equality Now an international human rights organization dedicated to action for the civil, political, economic and social rights of girls and women.
International Center for Research on Women
Report: The US Department of State's Trafficking in Person's Report, June 2005
American Domestic Violence Crisis Line is a national organization with an international outreach for women and children suffering from abuse overseas.
Phone: 1 866 US WOMEN
E-mail: crisis@866uswomen.org

Report: Sexual Violence and Armed Conflict: United Nations Response. Published by the United Nations Division for the advancement of women, the report examines the history and future of UN involvement in preventing rape during war.
The Human Rights Watch World Report 2004 offers a series of analytical and reflective essays on the theme of human rights and armed conflict. It particularly deals with problems of sexual violence and failures in many countries to provide women and girls with protection and redress.

Amnesty International "campaigns to free all prisoners of conscience; ensure fair and prompt trials for political prisoners; abolish the death penalty, torture and other cruel treatment of prisoners; end political killings and "disappearances"; and oppose human rights abuses by opposition groups. " Amnesty International has a history of publishing eye opening articles about sexual violence through out the world. For example, "Scarred bodies, hidden crimes" is an article posted on Amnesty's news page describing the magnitude of violence against women in armed conflict in Colombia.

Article: Report Indicates Gender-Related Violence Is Global by Jordan Lite, Women's Enews (internal link). The World Health Organization recently released a report saying that violence is often "predictable and preventable."

The Center for Women's Global Leadership at Rutgers University has initiated several policy and advocacy campaigns linking violence against women with human rights.

The United Nations Development Fund for Women (UNIFEM) acts as a catalyst within the UN system, supporting efforts that link the needs and concerns of women to all critical issues on the national, regional and global agendas. UNIFEM supports numerous projects and initiatives throughout the developing world that promote the political, economic, and social empowerment of women.
The World Health Organization's Sexual Violence Research Initiative (SVRI) aims to create dialogue about rape, sexual violence and sexual torture through out the world, where it is used as a weapon of war and means of humiliation.
National Center for PTSD, Rape of Women in a War Zone Fact Sheet Describes traumatic effects of rape. The Center has other information on posted.
Women's Human Rights Resources from the Bora Laskin Law Library at the University of Toronto.
The Human Rights Databank is a source for information and articles concerning human rights issues.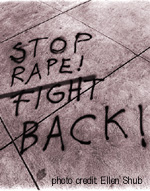 "In about 85 percent of
cases, sexual assaults
occur between people
who know each other."
Source: Diana Russell,
The Prevalence and Incidence of
Forcible Rape and Attempted Rape of Females, Victimology: An International Journal 7, 1-4 (1983).