General
Smith, Merril D., ed. "Encyclopedia of Rape." (Greenwood Publishing Group: 2004).
Stark, Christine and Rebecca Whisnant., eds. "Not for Sale: Feminists Resisting Prostitution and Pornography." (Spinif Express: 2004).
Woman, Inc. is an international project dedicated to highlighting and distributing educational and informative material about women's issues.
Joan Zorza, ed. "Violence Against Women." (Civic Research Institute, Inc: 2004). Volumes I and II. From the editor and publishers of the "Domestic Violence Report" and the "Sexual Assault Report," This two volume reference guide is a collection of the experiences and insights of leading professionals who work with victims of violence and, and who prosecute the perpetrators of such violence. It is a supirior source of information for professionals and students.
Narratives/Personal Accounts
Brison, Susan J. "Aftermath: Violence and the Remaking of Self." (Princeton University Press: 2003).
Venable Raine, Nancy. "After Silence: Rape and my Journey Back." (Crown: 1998).
Warsaw, Robin. "I Never Called It Rape." (Pearson: 2001).
Rape During War
EarthRights International has made available an online version of Betsy Apple's book "School for Rape: The Burmese Military and Sexual Violence," free to download from their website (66 pages + bibliography and footnotes).

Ehrenreich, Barbara. "Blood Rites; Origins and History of the Passions of War." (Virago Press: 1997).

Fraternity Cultures and Rape

Martin, P. Y., & Hummer, R. A. (1989). Fraternities and rape on campus. Gender and Society, 3, 457-473.

Boswell, A. A., & Spade, J. Z. (1996). Fraternities and collegiate rape culture: Why are some fraternities more dangerous places for women? Gender and Society, 10, 133-147.

Sanday, P. R. (1996). Rape-prone versus rape-free campus cultures. Violence Against Women, 2, 191-208.


Prevention
De Becker, Gavin. "The Gift of Fear and Other Survival Signs that Protect Us From Violence" (Mass Market Paperback).

Snortland, Ellen B, Gavin De Becker and J. Stevens. "Beauty Bites Beast: Awakening the Warrior Within Women and Girls" (Lightning Source, 2001).

Prostitution

Hoigard, Cecilie and Liv Finstad. "Backstreets: Prostitution, Money and Love." (Pennsylvania State University Press: 1994).

The Prostitutes Education Network has links to online stores that sell books about prostition.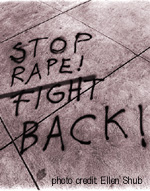 "In about 85 percent of
cases, sexual assaults
occur between people
who know each other."
Source: Diana Russell,
The Prevalence and Incidence of
Forcible Rape and Attempted Rape of Females, Victimology: An International Journal 7, 1-4 (1983).