Police Procedure


www.eeoc.gov, the Equal Opportunity Commission
Sexual Assault Guidelines Report This resource from the International Association of Chiefs of Police explains the suggested procedure and reporting forms. It is important to know what they suggest and think about how it will impact.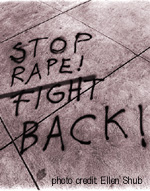 "In about 85 percent of
cases, sexual assaults
occur between people
who know each other."
Source: Diana Russell,
The Prevalence and Incidence of
Forcible Rape and Attempted Rape of Females, Victimology: An International Journal 7, 1-4 (1983).