Child Abuse

Stop it Now
National Hotline: 1-888-PREVENT

ChildAbuse.org is dedicated to ending child abuse. Their website contains sections for parents, kids and additional support resources.

Pedowatch.org was founded in 1996 and is dedicated to preventing online child sexual abuse.

The Child Abuse Forensic Institute offers resources and legal advocacy for a parent who is protecting a child, the child or the accused.

The Massachusetts Governor's Commission of Sexual and Domestic Violence and Child Abuse (PDF Download) the June 2005 report.

The mission of the American Humane Association is to prevent cruelty, abuse, neglect and exploitation of children and animals and to assure that their interests and well-being are fully, effectively, and humanely guaranteed by an aware and caring society.

The Leadership Council on Mental Health, Justice and the Media has extensive information on trauma related to childhood sexual abuse.
Advocates for Youth champions efforts to help young people make informed and responsible decisions about their reproductive and sexual health. Advocates believes it can best serve the field by boldly advocating for a more positive and realistic approach to adolescent sexual health.
Custody Preparation for Moms is a site dedicated to helping mothers in contested custody cases, which often involve abuse. They offer suggestions, advice, articles, resources and questionnaires.
TACT is the website of the UK's largest fostering and adoption charity and voluntary agency.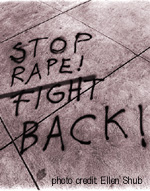 "In about 85 percent of
cases, sexual assaults
occur between people
who know each other."
Source: Diana Russell,
The Prevalence and Incidence of
Forcible Rape and Attempted Rape of Females, Victimology: An International Journal 7, 1-4 (1983).