Discussion Guide
You can either view the discussion
guide online (divided by topic)

or download it in its entirety:
Micrsoft Word or PDF format
This discussion guide provides supplementary information and discussion resources for the Cambridge Documentary Films production, "Rape is..."
We believe that "Rape is..." is an effective tool for social change when used in conjunction with an organized post-viewing discussion. The film introduces important and controversial ideas and the discussion allows viewers to explore and make those ideas their own. This online discussion guide was developed as a resource for discussion leaders. The guide is divided into specific subject areas each of which contains a small introduction, relevant facts, possible discussion questions and links to further research.


NOTE TO DISCUSSION LEADERS

It is best if you can watch the video before you present it so that you don't have to deal with both your reaction and the reaction of the group. This film can provoke very strong reactions. It may bring up powerful memories of past rapes and abuse. It is very important that the discussion leaders are prepared for this and can refer people to rape support personnel. It is recommended that discussion leaders know in advance where to send people and can supply a supportive setting to people who become upset.

BEFORE THE FILM:

It helps to give the film a brief introduction. It could sound something along the lines of :

"Rape is…" provides a comprehensive look at the issue of rape. It demonstrates that it is not a sporadic and rare occurrence, but a human rights violation and criminal outrage that affects millions of women, children and men.

THE FILM VIEWING:

After the film has finished, you may choose to leave the lights off for 30 seconds or so to allow people to compose themselves and begin to process what they have just seen.
DISCUSSION TOPICS:
Beginning the Discussion
Controversial Debates
Human Rights
Prostitution and the Sex Trade
Rape in Prison
Dating Violence
Childhood Sexual Abuse
Pornography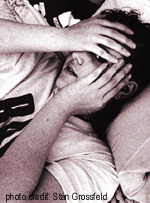 Teens 16 to 19 are three and one-half times more likely than the general population to be victims of rape, attempted rape or sexual assault.
Source:National Crime Victimization Survey. Bureau of Justice Statistics,
U.S. Department of Justice, 1996.