Beginning the Discussion
SOME GENERAL QUESTIONS TO BEGIN THE DISCUSSION:

Are there any thoughts, feelings or reactions that someone would like to share?

Who do you identify with in the film?

Do you think this could have happened to you?


BRIEF BIOS OF PARTICIPANTS AND UPDATES:

Eve Ensler: Playwright ("The Vagina Monologues"),activist and founder of V-Day, an international organization dedicated to stopping rape worldwide.

Diane Rosenfeld: Teaches women's studies and legal issues at Harvard University. She was a Senior Counsel at the Department of Justice in Washington.

Kathy Girod: Heads a research project at a leading cancer hospital.

Vednita Carter: Co-founder and Director of "Breaking Free" an organization that helps prostitutes. Vednita experienced firsthand the coercion, trauma and violence of the sex industry when she became involved in stripping after answering an ad for dancers in her local paper.

Richard Ridlon: Currently out of prison and working full time.

Salamishah Tillet: Poet whose work "Do you know what rape feels like?" provides the moving opening to the film. She co-produced a performance piece on rape with her sister entitled "A Long Walk Home" and is finishing her PhD in African American Studies.

Bok-dong Kim: Her testimony at the Vienna tribunal relates the horrors of being enslaved as a Korean "Comfort Woman" to be raped by Japanese soldiers in World War II.


OTHER DISCUSSION TOPICS:

Controversial Debates
Human Rights
Prostitution and the Sex Trade
Rape in Prison
Dating Violence
Child Sexual Abuse
Pornography
Legal Issues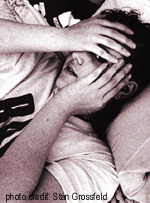 Teens 16 to 19 are three
and one-half times more
likely than the general population to be victims of rape, attempted rape
or sexual assault.
Source: National Crime
Victimization Survey.
Bureau of Justice Statistics, U.S. Department of Justice, 1996.