A Human Rights Violation
Rape has been a part of war since time immemorial. Human rights reports have painted particularly horrific pictures of rape in current world conflicts. In former Yugoslavia, for example, rape was used as a deliberate tool to undermine community bonds, humiliate and torture women and weaken resistence. Only recently has rape been prosecuted as a war crime.

What do you think that says about rape? About war in general?

Does it reflect a growing awareness of the severity of rape?

FURTHER RESEARCH ON RAPEIS.ORG:
See the rapeis.org page on Rape As a Human Rights Violation for links to articles and activist groups.

OTHER DISCUSSION TOPICS:

Beginning the Discussion
Controversial Debates
Prostitution and the Sex Trade
Rape in Prison
Dating Violence
Child Sexual Abuse
Pornography
Legal Issues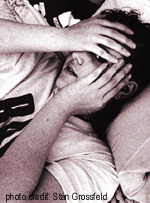 Teens 16 to 19 are three
and one-half times more
likely than the general population to be victims of rape, attempted rape
or sexual assault.
Source: National Crime
Victimization Survey.
Bureau of Justice Statistics, U.S. Department of Justice, 1996.