Dating & Marital Violence

REPORT: The World Health Organization (WHO), World Report on Violence and Health (PDF download) Chapter 6 of the report covers Sexual Violence.


The Date Hook Up Sexual Assault Page



Teen Dating Violence

Love is Respect is the online resource of the National Teen Dating Abuse Helpline where one can find resources support and information.
You can talk one-on-one with a trained advocate 24/7 who can offer support and connect you to resources.
Toll free:1-866-331-9474
TTY: 1-866-331-8453
One-on-one live chat is also available from 4-midnight Central Standard Time, 7 days a week.

Break the Cycle is a program dedicated to "empowering youth to end domestic violence." They have designed programs for middle and high schoolers that teach adolesents prevention and copping skills surrounding issues of dommestic and sexual violence. Break the Cycle also provides a legal issues program designed to help those currently in a violent and/or unsafe enviornment.

Mentors in Violence Prevention (MVP) is a Boston based organization that encourages both student-athletes and student leaders to become active in solving and preventing gender violence.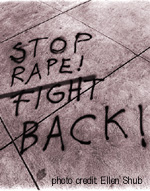 "In about 85 percent of
cases, sexual assaults
occur between people
who know each other."
Source: Diana Russell,
The Prevalence and Incidence of
Forcible Rape and Attempted Rape of Females, Victimology: An International Journal 7, 1-4 (1983).