Online Courses, Quizzes & Syllabi
Online Courses and Syllabi
Diane Rosenfeld's online course, Violence Against Women, explores the various ways in which violence against women is facilitated through the use of the Internet, as well as ways in which the Internet may be used as a site of resistance to such violence. The series is free and open to the public, and it's not too late to join in. Visit: http://eon.law.harvard.edu/vaw02/

Molly Dragiewicz offers an online course on domestic violence. The course is interdisciplinary and includes a strong critical media/research literacy component. It is designed to provide an introduction to the dynamics of domestic violence and community and individual responses to it.

Marita McComisky's "Women and Violence" course (at the University of Connecticut) investigates the public nature of private violence as a way of examining how private experiences of violence are rooted in social conditions.

The University of Maryland, Baltimore County maintains an online database of syllabi on the web for women and gender-related courses.


Other Syllabi (click on title to download)

Women and Violence by Denise Copelton, Augustana College

Feminist Perspectives on Violence Against Women and Children by Paula Rangel, Towson University

Politics and Sex by Dr Carole Sheffield at William Patterson University
Global Gender Violence Senior Seminar by Diana Scully at Virginia Commonwealth University


Free Online Toolkit

The National Advisory Council on Violence Against Women designed two free online toolkits to assist communities and individuals in strengthening domestic violence prevention efforts and improving services to victims. The toolkit includes 16 chapters that are intended to assist communities, organizations and individuals dealing with domestic violence, sexual assault or stalking. Topics covered include the criminal justice system, health, sports, faith, the media, the military and entertainment. The toolkit is available online at http://www.toolkitncrjs.org


Online Rape Quiz

Take an online quiz about rape designed by the Women's Justice Center. It focuses on uncovering myths and spurring group discussion. A Spanish version is also available. http://www.justicewomen.com/cj_rapequiz_intro_en.html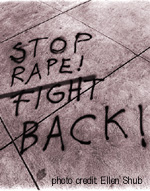 "In about 85 percent of
cases, sexual assaults
occur between people
who know each other."
Source: Diana Russell,
The Prevalence and Incidence of
Forcible Rape and Attempted Rape of Females, Victimology: An International Journal 7, 1-4 (1983).