Sex Trafficking
Standing Against Global Exploitation (SAGE) is a San Francisco based organization that provides information about and resources for victims of trafficking, sexual exploitation and violence, and individuals involved in the sex trade and those thinking of or having left prostitution.

The Protection Project was created by Johns Hopkins University School of Advanced International Studies (SAIS) to establish an international framework for the elimination of trafficking in persons, especially women and children. The web site contains information about trafficking throughout the world, featuring country reports with statistics and maps of trafficking routes, as well as profiles of survivors. There is also a referral system that includes listings of trained service providers and resources for helping U.S. victims of trafficking.
The Coalition Against Trafficking in Women is a non-governmental organization that promotes women's human rights. It works internationally to combat sexual exploitation in all its forms. Their website offers research and documentation of international sexual exploitation as well as links to international and national organizations offering support to trafficked women.
Polaris Project is a Washington, DC based non-Profit organization that is focused on combating trafficking through local, national and international grassroots efforts.

The U.S. Department of Justice Trafficking Hotline
1-888-428-7581

Donna Hughes, chair of the women's studies program at the University of Rhode Island,has written a number of papers dealing with issues of trafficking. They are available for download from her website: http://www.uri.edu/artsci/wms/hughes/pubvio.htm

Vital Voices is an international organization dedicated to helping women participate in the process of building democracy and preventing sex trafficking and other human rights violations all over the world.
Articles and Reports
The US Department of State's "Tafficking in Persons Report, June 2005"

"A New Commodity in Kosovo" - new finding in report by the International Organization for Migration (IOM) reveal sex trafficking in Kosovo.

"Boys Will Be Boys" - International peaceworkers create demand for prostitution in war torn countries (from the BBC).

The International Organization for Migration (IOM) published a report entitled Shattered Dreams: Report on Trafficking in Persons in Azerbaijan (Adobe PDF format).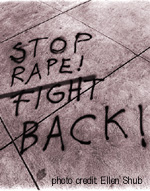 "In about 85 percent of
cases, sexual assaults
occur between people
who know each other."
Source: Diana Russell,
The Prevalence and Incidence of
Forcible Rape and Attempted Rape of Females, Victimology: An International Journal 7, 1-4 (1983).