Colombia
"Scarred bodies, hidden crimes":
Sexual Violence against women in the armed conflict
Published by Amnisty International
See Article
INTRODUCTION

"A stick was pushed into the private parts of an 18-year-old pregnant girl and it appeared through [the abdomen]. She was torn apart. (…) They [army-backed paramilitaries] stripped the women and made them dance in front of their husbands. Several were raped. You could hear the screams coming from a ranch near El Salado [Department of Bolívar]..."(1)
"The girls spend their lives being intimidated and threatened by guerrillas and paramilitaries. They are accused of having relationships with men from the other side. Between February and March [2004] the bodies of three girls who had been raped were found in the area. They mark their territory by leaving scars on the bodies of the women. It is a terror without sound. Sometimes they punish women for wearing low-slung jeans but other times they make them wear low-cut tops and miniskirts so that they can accompany them to their parties".(2)
All the armed groups – the security forces, paramilitaries and the guerrilla – have sexually abused or exploited women, both civilians or their own combatants, in the course of Colombia's 40-year-old conflict, and sought to control the most intimate parts of their lives. By sowing terror and exploiting and manipulating women for military gain, bodies have been turned into a battleground. The serious abuses and violations committed by all the parties to the armed conflict remain hidden behind a wall of silence fuelled by discrimination and impunity. This in turn exacerbates the violence that has been the hallmark of Colombia's internal armed conflict. It is women and girls who are the hidden victims of that conflict.
Men have also been the victims of sexual violence in the context of the armed conflict. But the sexual abuse and exploitation of women and girls have long been ignored, not only because violence against them has been perceived as belonging to the private sphere, but because fear and shame about sexual abuse have prevented many women from speaking out. Women and girls in Colombia are the victims of domestic violence and community-based violence. But the conflict exacerbates these forms of violence and the gender stereotyping which underpins them.
With their bodies viewed and treated as territory to be fought over by the warring parties, women are targeted for a number of reasons – to sow terror within communities making it easier for military control to be imposed, to force people to flee their homes to assist acquisition of territory, to wreak revenge on adversaries, to accumulate "trophies of war", and to exploit them as sexual slaves. Sexual violence has thus indelibly marked Colombian women's lives. Men and women have also been targeted for attack because of their sexual orientation or gender identity.
In Colombia, as elsewhere, official figures do not reflect the scale of the problem of sexual violence. Rape is thought to be significantly under-reported. Despite the often unequivocal evidence left on victims' bodies, sexual violence is, for example, rarely recorded in autopsy reports. Few perpetrators are ever brought to justice for any human rights violation – and even fewer for crimes of sexual violence. The terrible fate suffered by the individuals concerned is therefore exacerbated by this double invisibility. As this report shows, violence against women in the context of the armed conflict is widespread.
Last year, over 220 women were killed for socio-political reasons outside combat – in the street, home or workplace – and 20 "disappeared". The security forces were reportedly directly responsible for around 5% of these killings, army-backed paramilitaries for 26% and the guerrilla for 16%. In the rest of cases, those responsible were not identified. According to figures from the 2003 UNDP Human Development Report on Colombia, El Conflicto, Callejón con Salida (Solutions to Escape the Conflict's Impasse), the number of women killed for conflict-related reasons outside of combat increased by 20% between 2000-2001 and 2001-2002. During this period, women accounted for 6% of all deaths in and out of combat and forced "disappearances, 10% of tortures, 11% of all land mine-related deaths and 18% of kidnappings. Moreover, 17% of the human rights defenders killed were women, as were 16% of all trade unionists and 16% of people from indigenous communities.
The response of the authorities and state institutions, which should be implementing measures to end such abuses, can be as abusive as the violence itself. In Colombia, survivors can find it very difficult to obtain medical assistance, emergency treatment and support measures. The survivors also face serious obstacles in their search for justice. When a state fails in its responsibility to exercise due diligence to prevent, punish and eradicate sexual and gender violence it sends out a message that such behaviour is tolerated or even condoned. By remaining silent and failing to act, the state is tolerating such abuses and encouraging the commission of further offences.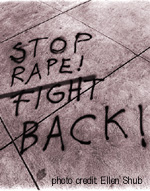 "In about 85 percent of
cases, sexual assaults
occur between people
who know each other."
Source: Diana Russell,
The Prevalence and Incidence of
Forcible Rape and Attempted Rape of Females, Victimology: An International Journal 7, 1-4 (1983).