Prostitution

Resources

The Prostitution Research & Education site has a collection of articles, facts and opinion pieces deconstructing cultural myths about prostitution. The website explains how prostitution is a number of things including: a violation of human rights, rape, a means of maintaining male dominance over women and a racist practice.
Sisters Speak Out: The Lives and Needs of Prostituted Women in Chicago, a report from the Center of Impact Research.

Article: THE FACTS ABOUT PROSTITUTION (internal link)

Article: "Men Create the Demand, Women are the Supply" by Donna Hughes
Article: "Sex Workers and Civil Rights" by Kari Anderson (from AlterNet.org

Regional Organizations

California

Children of the Night
Los Angeles California
(818)908 4474, (800)551 1300 (hotline)

Mary Magdalene Project
7136 Haskell Ave. Suite #125
Van Nuys, Ca. 91406
(818) 988-4970

Illinois

Young Women's Empowerment Project
Chicago, Illinois
(773)274 8684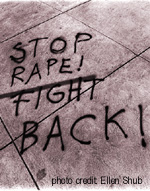 "In about 85 percent of
cases, sexual assaults
occur between people
who know each other."
Source: Diana Russell,
The Prevalence and Incidence of
Forcible Rape and Attempted Rape of Females, Victimology: An International Journal 7, 1-4 (1983).