Prostitution

Resources

The Prostitution Research & Education site has a collection of articles, facts and opinion pieces deconstructing cultural myths about prostitution. The website explains how prostitution is a number of things including: a violation of human rights, rape, a means of maintaining male dominance over women and a racist practice.
Sweden was the first country in the world to decriminalize prostitution for the prostitutes, but criminalize the act of buying or trying to buy sex. Below is a website in Swedish where you can find more information (there is an option in the left-hand menu of the site for an English translation):
http://www.roks.se/index.html
The Lola Greene Baldwin Foundation for Recovery is dedicated "to help people escape the life of prostitution, survive, and recover from its long-term effects" and to educate those in the community who are potential participants in or users of prostiution.

Sisters Speak Out: The Lives and Needs of Prostituted Women in Chicago, a report from the Center of Impact Research.

The Chicago Coalition for Homeless has conducted several studies about prostitution. Fact sheets, reports and surveys are available for downloading from their website.

Article: THE FACTS ABOUT PROSTITUTION (internal link)

Article: "Men Create the Demand, Women are the Supply" by Donna Hughes

Article: "How Prostitution Works" by Joe Parker (from the Prostitution Research and Education website)

Article: "Sex Workers and Civil Rights" by Kari Anderson (from AlterNet.org

Regional Organizations

California

Children of the Night
Los Angeles California
(818)908 4474, (800)551 1300 (hotline)

Mary Magdalene Project
7136 Haskell Ave. Suite #125
Van Nuys, Ca. 91406
(818) 988-4970


Hawaii
Sisters Offering Support (SOS)
Honolulu, Hawaii
(808)941 5554

Illinois

Young Women's Empowerment Project
Chicago, Illinois
(773)274 8684

Minnesota
Breaking Free
Saint Paul, MN
(651)645 6557
breaking@qwest.net
Escape: The Prostitution Prevention Project
Minneapolis, MN
(612)871 5100 ext 28
http://www.escapeprostitution.com/

Nevada

Sex Workers Anonymous
Las Vegas, NV
(702) 438 1470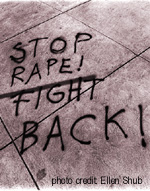 "In about 85 percent of
cases, sexual assaults
occur between people
who know each other."
Source: Diana Russell,
The Prevalence and Incidence of
Forcible Rape and Attempted Rape of Females, Victimology: An International Journal 7, 1-4 (1983).